What is Podnova Twitter Widget?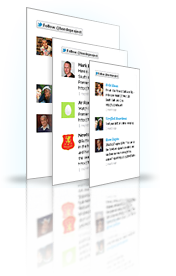 This widget is designed to facilitate your search for specific tweets and make Twitter integration with your website as natural-looking as possible. We have addressed the main downside of Twitter's native widget: the fact that it only uses one word or phrase for each search query, making it difficult to pick the queries that would come up with relevant tweets for your website. Conversely, our widget allows for up to 15 words and phrases per search query, and it still is as easy to set up as the native one. Just follow these simple steps:
- Enter up to 15 search items, separating each word or phrase with a "|";
- Enter the name of your website and the number of tweets you'd like the widget to display at a time;
- Preview your widget, copy its code, and paste it into your website.

You can see our widget in action by visiting The Horde Project: open the page and look for "Powered by Podnova twitter" on the right-hand side.